Blackpool FC apologises for 'fire' song at Bradford City game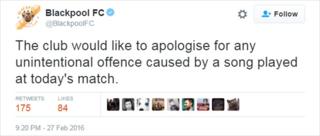 Blackpool FC has apologised after playing Billy Joel's "We Didn't Start The Fire" in the lead up to their League One match against Bradford City.
The club tweeted to apologise for "any unintentional offence".
A fire ripped through Bradford City's home ground during the 1985 match against Lincoln City, killing 54 Bradford City fans, two Lincoln fans and injuring many more.
The fire is thought to have been started accidentally by a cigarette.
Responding on Twitter, Blackpool fans said it was "totally insensitive" and showed a "lack of thought and care" but Bradford City fan Andy Walker said "no offence was meant or taken".
Kyel Reid scored the only goal of the game on Saturday as Bradford City moved to within a point of the play-off spots with victory over relegation-threatened Blackpool at Bloomfield Road.