Cuadrilla wins Lancashire monitoring site appeal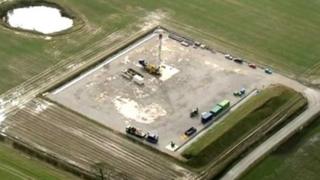 An energy firm has won its appeal against a council decision to reject plans for a monitoring site in Lancashire.
Cuadrilla has been given permission by the Planning Inspectorate to restore the Grange Hill shale exploration site near Singleton.
The company plans cover the use of the existing well to carry out seismic and pressure monitoring.
Lancashire councillors rejected the company's plans in February 2015.
Cuadrilla chief executive Francis Egan said there would be "no significant" impact to the landscape from the use of monitoring equipment at the site.
"The well at Grange Hill was drilled to its target depth of 10,700 ft during 2011," he said.
"The well was not used to hydraulically fracture the shale rock and no flow testing of natural gas was undertaken."
The company said once monitoring was completed, the well would be plugged with cement and the site restored to its original green field status.
Lancashire County Council were unavailable for comment.