Stabbed solicitor husband was 'living in hell'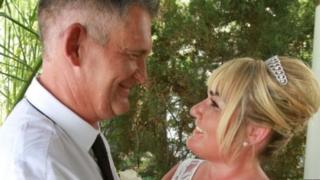 A man who was stabbed in the heart by his new wife had told his former partner he was "living in hell", a court has heard.
Sharon Edwards denies murdering David Edwards, 51, with a kitchen knife at their home in Chorley, Lancashire.
Manchester Crown Court also heard he had been told to "get away" from his 42-year-old wife by work colleagues.
The 51-year-old criminal defence lawyer died two months after the couple's Las Vegas wedding in June 2015.
Debra Livesley, who denied her evidence was motivated by jealousy, but admitted there had been "abusive calls" between her and Mrs Edwards, told the court she had advised Mr Edwards to leave his wife.
"He said 'trust me I can't'. I said, 'if you don't, she is going to end up killing you'," she said.
"He said 'my life is hell down there, I'm living in hell'."
'Complete nightmare'
The court was told Mr Edwards had been made redundant and the resulting loss of income or status "may well have been relevant to Sharon Edwards' increasing resentment towards him [as she] perhaps quite liked the idea of being a solicitor's wife".
Christopher Hall said he had many conversations with his former colleague about visible injuries, which Mr Edwards would pass off as "accidents", but which were caused by coffee tables and ashtrays being thrown at him.
He said Mr Edwards had confided that his wife had once been arrested, but he had refused to cooperate with police.
"David's words were, as a defence support, he 'knew the system'," he said.
"He said if he refused to make a complaint and Sharon refused to answer any questions, no action could be taken.
"I told him to just get away and get to his parents, just by himself, and to think things through. He said that she wouldn't let him."
Barrister Joanne Shepherd, who had worked with Mr Edwards, also told the court that he had described his wife "as a complete nightmare [who] was bleeding him dry".
The trial continues.