AXA loses claim over £2m Burnley engineering firm fire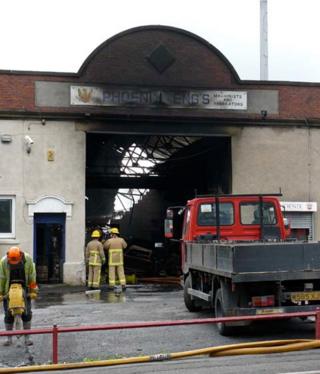 An insurance company has failed in a high court bid to recover some of the £2m paid out for a fire caused by a workman welding his car.
Sparks from Thomas Holden's welding ignited the car's seat covers at Phoenix Engineering in Burnley before the fire spread in June 2010.
The firm's insurance company, AXA, argued his motor insurers should pay some of the costs.
But the judge said the vehicle was not being used as a car at the time.
After being given permission to use the loading bay to work on his car, Mr Holden used a fork-lift truck to put the car on its side so that he could weld a metal plate under the driving seat.
When he stood up a short time later, he saw flames licking the inside of the car, and it soon got out of control, London's High Court heard.
Welding 'negligent'
Amidst plumes of smoke which could be seen for miles, the fire gutted the factory and adjoining premises, said Judge David Waksman QC.
The facts of the case emerged as Judge Waksman ruled on a bid by AXA to get at least part of its money back from Mr Holden's motor insurers, UK Insurance Limited.
AXA argued that the fire took hold in Mr Holden's car and thefore UK Insurance should at least contribute to the enormous bill.
However, the judge said Mr Holden was not "using" his vehicle as a car at the time and the facts of the case were miles away from a road accident.
The car was on its side with its battery disconnected and the cause of the blaze was Mr Holden's allegedly negligent use of grinders and welding equipment.
The ruling means that UK Insurance will not have to make any contribution to the millions paid out by AXA.