Lancashire council tax to rise by 4% as £85m savings agreed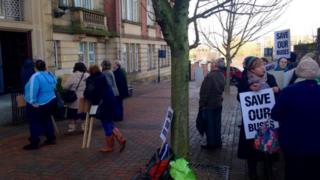 Lancashire County Council has agreed to increase council tax by 4% and make total savings of £85m next year.
Labour, which runs the council, said it had "no choice" given "relentless" reductions in government funding.
At Thursday's meeting, councillors also agreed to drop planned cuts to the council's flood risk management service after flooding this winter.
Conservative MP Nigel Evans, who represents Ribble Valley, criticised the council as "not fit for purpose".
He added he would ask communities and Local Government Secretary Greg Clark to look at the budget decisions "very, very carefully".
Councillors debated the budget for seven hours at County Hall in Preston where campaigners protested against cuts to rural bus services.
Setting a total budget at £712m for 2016/17, they agreed that council tax would rise by a further 1.99%, alongside another 2% increase that has been permitted by the government for social care services.
In the end, the council found £65m in additional savings after having already identified cuts worth £20m.
'Extra £200m cuts by 2020'
Changes to the 2016/17 budget include:
An additional £500,000 to the highways budget
Cross-party groups to implement budget decisions - supported by a £3m contingency fund to reduce the impact of changes to services
The council's own travel care buses - which take children with special educational needs and disabilities to and from school - will also be used to transport more than 1,000 elderly and disabled people visiting day-care centres
Wyre residents can use NoW cards (transport smartcards) to access the Blackpool Tramway
According to a spokesman, the council still needs to make a further £200m over the next four years in addition to the £64.8m savings agreed last night.
Lancashire County Council leader Jennifer Mein said the decisions followed "relentless cuts in central government funding combined with a rising demand for our services".
Before the meeting, she said the authority is "looking at a cliff edge" as it may not be able to survive budget cuts.
"I cannot explain just how difficult it is to make decisions like these and yet the reality is that there are more ahead as the council will have to find a further £200m of savings by 2020."
She said the council needed to spend its "useable reserves to balance the budget over the next two years", adding "it is not clear at this point how we will be able to deliver even statutory services beyond that point".