Former special sergeant issues dangerous driving support plea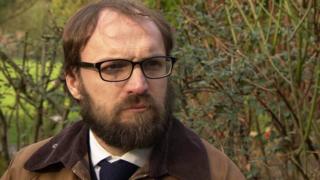 A former special sergeant who admitted dangerous driving has claimed he received "no support from police".
Andrew Blades admitted the offence in November after using a patrol car to try to block a biker and passenger suspected of anti-social behaviour.
He spoke out this week as Lancashire MP Jake Berry called his case an "absolute scandal".
Police said Mr Blades's behaviour "fell below the standards expected".
Mr Blades - who has called for more protection for police volunteers "when things go wrong" - was given a 12-month driving ban and ordered to pay costs and damages.
He spoke to the BBC as Mr Berry - MP for Rossendale and Darwen - said he would be raising the issue with the Home Office and the Ministry of Justice.
Mr Blades, who was also a driving instructor, said he drove the police car across Lower Mead Drive in Burnley to try to "slow down" bikers.
One tried to get around the car but he and a passenger came off, suffering minor injuries, it was claimed.
'Split-second decision'
Mr Berry promised his support "to see what action we can take to protect volunteers like Andrew from such unscrupulous and opportunistic legal claims".
Mr Blades said the ordeal had a "major impact" on his life.
He said: "My motivation for joining was I wanted to make the community a better area.
"It was one mistake and for that one mistake the police were very happy to hand me over to the courts to decide what to do with me."
He said he felt "isolated" by the force and he "was given no sensible, impartial advice".
He added: "There is an element of being made an example of. There was no consideration that I was trying to do the right thing. I made one mistake in six years and I made it when I was trying to uphold the law."
Mr Blades is calling for an independent organisation, similar to the Police Federation, to be set up to support volunteers with advice and support.
A Lancashire Police spokesperson said: "[Special Sgt Andrew Blades'] behaviour on this occasion clearly fell below the high standards expected of officers and staff and which the vast majority live up to on a daily basis."