Flying Scotsman's mainline return after £4.2m revamp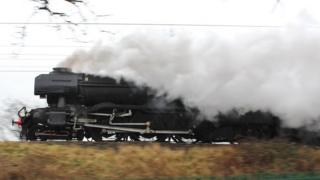 One of the world's most famous locomotives has returned to the West Coast mainline.
Flying Scotsman is travelling from Carnforth on the West Coast Main Line following a £4.2m restoration project, which has taken 10 years.
The engine, which was retired from service in 1963, has been restored for York's National Railway Museum by Riley and Son Ltd, based in Bury.
Low-speed tests have taken place along the East Lancashire Railway.
The locomotive is in its black undercoat and sporting wartime numbers.
It will be painted in its new green livery next week after the test run.
Jim Lowe, head of operations at the National Railway Museum in York, said: "We have all been looking forward to the day when Flying Scotsman is once again running on Britain's tracks."
The train is travelling from Carnforth and into Carlisle with a return journey through Appleby and across the Ribblehead Viaduct to Farrington.
---
---
Flying Scotsman
Designed by Sir Nigel Gresley, Flying Scotsman emerged from Doncaster Works on 24 February 1923
The British Empire Exhibition in 1924 made Flying Scotsman famous
In 1934, Scotsman was clocked at 100mph - officially the first locomotive to have reached that speed, though some claim City of Truro was the first steam engine to break the 100mph record in 1904 when it apparently reached a speed of 102mph running down a slope near Somerset.
It is 70ft (21m) long, weighs about 96 tonnes and had a top speed of 100mph
It has travelled approximately 2,500,000 miles
During World War II, it was repainted wartime black
By 1995, it was part-owned by record producer Pete Waterman
The engine was bought for the nation in 2004 by the National Railway Museum (NRM) in York using £415,000 in public donations, a £365,000 gift from Sir Richard Branson and a £1.8m grant from the National Heritage Memorial Fund.
Tests began on 6 January at the East Lancashire Railway. Flying Scotsman returned to the tracks after a decade-long £4.2m restoration.
It will be repainted in its traditional green livery on 10 February for its inaugural journey from London's King's Cross to York two weeks later. Public services will begin in late February, alongside an exhibition at the museum.
---