Preston raids: Three men guilty of rape and prostitution offences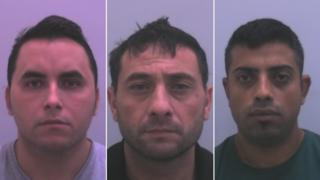 Three men have been convicted of rape after two Romanian women were forced into prostitution.
Lancashire Police found the women, aged 18, at a brothel in Preston after receiving a tip-off.
Marius Petre, 26, and Adrian Matei, 34, were each found guilty of two counts of rape, causing prostitution for financial gain and human trafficking.
Ionut Ion, 35, was convicted of keeping a brothel used for prostitution and two counts of rape, at Preston Crown Court.
All three men, who were from Romania, will be sentenced on 15 March.
Hotel work ploy
Police said they received a tweet from someone who said there may be underage girls at the brothel in Longworth Street.
Officers then raided the premises last July and found the two women.
They had been in the UK for about two weeks after being brought from Romania by Petre and Matei with the promise of work as hotel maids, police said.
They were instead taken to the brothel and told that they would be working as prostitutes.
They were forced to perform sexual acts on customers, and were threatened with violence to them and their families.
'Rescued from evil'
They were raped by Ionut, who was already at the house when the women arrived, and by Petre and Matei.
Petre, of Preston, and Matei, of Longworth Street, were found guilty of intentionally arranging entry to the UK of a person for sexual exploitation.
Det Insp Jane Webb said the girls were "being supported to build better lives here in the UK".
"They are thankful for being rescued from the evil men that subjected them to such abhorrent crimes."