Bacup school's recruitment hit by rowdy pupils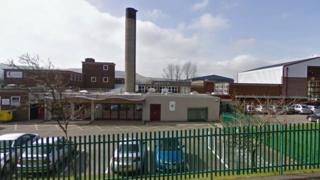 Poor student behaviour has affected the recruitment of staff at a school in Lancashire, the head teacher has told parents in a letter.
"Inappropriate and difficult behaviour" at Fearns Community Sports College in Bacup is also an "issue" when trying to retain staff, Helen Stead wrote.
She appealed to parents for their help and support, and also asked pupils to welcome new members of staff.
The school, in special measures since 2014, is "settling down", she said.
In the letter issued on Friday, she said a number of pupils had "recently been excluded for persistent disruption".
She said the latest Ofsted inspection had highlighted the issue of "wilful non-compliance with teachers' instructions [leading] to disrupted learning".
'Serious concerns'
"To recruit and retain staff whilst in special measures is a significant challenge," wrote Ms Stead.
"Unfortunately a number of our pupils are impacting on this issue through a lack of co-operation and demonstrating inappropriate and difficult behaviour.
"I will be contacting separately the parents of those children who continue to cause the most serious concerns."
A list of "expectations" about behaviour - including being respectful, polite and sensible - has been included.
Ms Stead said she wanted to "thank parents for their support".
While Fearns Community Sports College has been having difficulty recruiting specialist staff in curriculum areas such as maths and technology, all vacancies have now been filled.