'Suspicious package' delivered to Lancashire business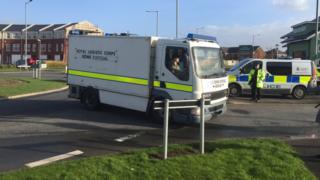 Bomb disposal experts were called to a suspected suspicious package delivered to a business in a Lancashire village.
Police were called to reports of a suspicious package at Cellmark Forensic Services in Ordnance Road, Buckshaw Village, Chorley, at about 10:15 GMT.
It was assessed by the Explosive Ordnance Disposal team and was later deemed a "genuine delivery".
The premises and surrounding buildings within 328ft (100m) were evacuated as a precaution.
The cordon was lifted after police said there was "no threat to anyone at the premises or in the wider community".
Ordnance Road was closed in both directions between Buckshaw Avenue and Townsend Drive. The 109A bus service was diverted.