Stephen Whitehead death: Binman was attacked with sledgehammer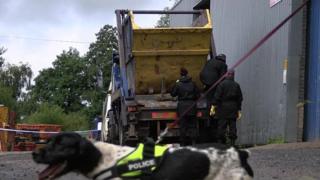 A binman was bludgeoned to death with a sledgehammer as "payback" for calling a workmate lazy, a court has been told.
Stephen Whitehead, 49, was found slumped in a chair at Pendle Skip Hire, Burnley, Lancashire, on 27 July, 2015.
Aaron Jenkins, 20, of Burnley, admits hitting Mr Whitehead with a hammer in an act of revenge following a fight between the pair on 10 July.
Mr Jenkins denies murder at Preston Crown Court but admits manslaughter on grounds of diminished responsibility.
A casual worker at the skip hire firm, who lost his job there after the fight on 10 July, he told police he broke into the yard to steal a motorbike on 25 July.
But when he heard a radio playing in the canteen area, he said: "I had a look in and I saw Stephen Whitehead and I thought this is my time to get him back, like payback kind of thing.
"I've seen something, like a sledgehammer, I've picked it up, gone back to the canteen.
"At that point, I've smacked him a couple of times with it, then just walked off.
"I was a bit drunk. I thought payback time."
Mr Whitehead was found by colleagues opening the site at 07:00 GMT on 27 July.
The fight between Mr Jenkins and Mr Whitehead on 10 July resulted in both men needing hospital treatment.
Francis McEntee, prosecuting, said: "Aaron Jenkins had been put to work in the yard with Stephen Whitehead.
"It was not long before Stephen Whitehead criticised Aaron Jenkins for being lazy, resulting in insults and threats being exchanged, before Aaron Jenkins took off his shirt and began bouncing around like a boxer, threatening to knock out Stephen Whitehead before punching him."
Following the fight, site manager Mr Chris Gorton told Mr Jenkins not to come back to work at the site.
Mr McEntee said: "Aaron Jenkins has moderate learning difficulties - that is not disputed.
"The issue in this case will be whether this abnormality diminishes his responsibility for killing Mr Whitehead so that he should properly be convicted of manslaughter as opposed to murder."
The case continues.