Lottery grant for Rivington Terraced Gardens project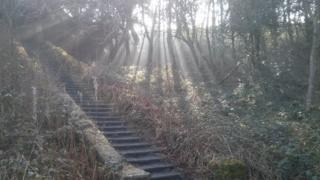 One of England's "lost gardens" has been awarded a multimillion-pound upkeep grant.
Rivington Terraced Gardens were constructed in the 1920s but have become neglected and overgrown.
Members of Rivington Heritage Trust helped to secure a Lottery grant of £3.4m for the site.
In their glory days, the Edwardian gardens boasted a Japanese Lake and were the home of industrialist Lord Leverhulme.
The gardens, which form part of the the Pennine moors and are shadowed by Rivington Pike, once played host to pagodas and pavilions.
Ben Williams, groundwork project manager, said a lot of the work would be invisible, as buildings would be refurbished using original materials and techniques.
At the moment, he said, the gardens were often used as "a quick route to the Pike."
"We are looking at roof structures and viewing platforms to take advantage of the views," he said. "We want to make sure people can enjoy the views safely."
The BBC's Countryfile ranked Rivington as one of its top 10 "lost gardens" in the UK.