Man arrested over Blackpool school shooting threat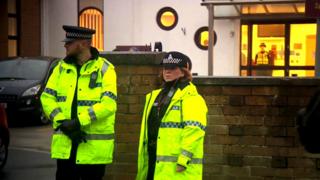 A man has been arrested in connection with threats made against school pupils in Blackpool, Lancashire Police said.
Threats to "kill as many people as possible" at Montgomery High School in Bispham were posted on Facebook last weekend.
Police dismissed the threat as "not credible" and while the school opened as normal, most pupils did not attend.
A 54-year-old man from Blackpool has been arrested on suspicion of public nuisance and malicious communication.
The school said more than 1,000 of its 1,375 pupils did not attend on Monday, but every staff member attended, School Principal Tony Nicholson said.
Police officers patrolled outside the school for "reassurance".
Detectives asked anyone with information to contact them or Crimestoppers.