Floods: Lancashire MP urges review of house building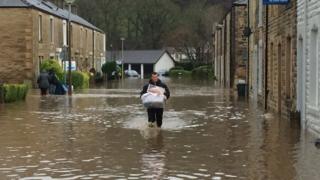 A Lancashire MP is calling for a review of all housing developments in his constituency after recent flooding.
MP for the Ribble Valley, Nigel Evans, said previous approval should not mean a green light for sites after extensive floods hit the area on Boxing Day.
Mr Evans wants Local Authorities to review "all permissions granted".
The Home Builders Federation said it is "fair to reassess if there is new information but this must be balanced against the need for new housing".
A spokesperson for the federation said developers "do what they are told" by Local Authorities and the Environment Agency and that these developments have already passed an assessment.
Mr Evans said his proposals would ensure "that drainage and surface water cannot effect new developments".
'Complete game-changer'
The Conservative MP is also urging the government to issue new guidelines "prioritising drainage and emphasising the importance of fields for water retention".
This would have to be taken on board before new permissions for development are given.
He said it is "crazy" to build houses in high risk areas.
"A number of planning permissions have already been given - some have been given by government planning inspectors when the local authority actually rejected it... I just believe now that we need a total and thorough review."
Mr Evans said the recent floods are a "complete game-changer" and if building firms cannot meet strict conditions regarding rainwater flow and drainage, their developments should be stopped.
This comes as the government announced a plan to pay farmers in England for allowing their land to be flooded.
Deputy leader of Ribble Valley council and former chair of the planning committee, Terry Hill, said there is currently one planned housing development in the area on what could be described as a flood plane.
He said it is under negotiation and that the Environment Agency could now take another look at it.