Honour for Preston man Fayyaz Ahmed who defused race tensions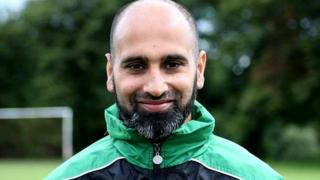 A man who set up a football team to defuse racial tensions in Preston has been rewarded in the New Year Honours.
Fayyaz Ahmed, 42, has been appointed MBE for services to interfaith relations and community cohesion.
He said it was "a massive shock" to receive the honour, adding, "I thought it was a prank".
"For somebody like me who does day-to-day work with young people you don't really think someone is going to nominate you for an award," he said.
Mr Ahmed was working as a council youth worker when he became concerned about the tensions and racism in the Fishwick area of Preston where he has lived all his life.
He left full-time work to see what he could do to break down the barriers between young white and Asian people with a big project.
The result was the formation with local people of Fishwick Rangers, a sports and youth development organisation which started as a junior football team in 2001.
"We've got a guy working for us who joined the football team as five-year-old," he said.
He added: "We don't lose contact with the young people after the age of 16."