Baldwins Crane Hire fined over death of Lindsay Easton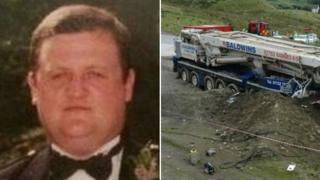 A crane hire firm has been fined £700,000 after an employee was killed in a crash.
Lindsay Easton, 49, was driving a crane at Scout Moor quarry in Lancashire when the brakes failed in 2011.
An investigation found several wheel brakes were inoperable or damaged, "providing only limited braking force".
Baldwins Crane Hire, which was recently convicted of corporate manslaughter, was also ordered to pay £200,000 in costs at Preston Crown Court.
The court found it also failed to ensure the safety of its employees and others.
Limited braking force
Mr Easton, from Sowerby Bridge in Yorkshire, was driving the 130-tonne vehicle on a steep access road before losing control and crashing into an earth bank on 15 August.
The front of the vehicle was crushed, with the 49-year-old dying from multiple injuries, Lancashire Police said.
The Health and Safety Executive (HSE) paid tribute to his "heroic actions... which helped prevent an even greater potential tragedy by his attempt to stop the crane on the run-off lane rather than continuing down the access road and onto the public highway".
The court trial heard the crane was not Mr Easton's usual vehicle.
Det Sgt John McNamara said at sentencing that the brakes "were in a shockingly bad state".
Apology
In a victim impact statement, Mr Easton's daughter said: "You expect your dad to be there for all the important things. Life won't be the same."
Baldwin Crane Hire had apologised unreservedly, its barrister Simon Antrobus QC said, adding that Mr Easton's death had affected the owning family "very deeply".
He added the firm had a reasonable or good safety record despite one previous criminal conviction for overloading.
He said it was now a very different company, and that its health and safety procedures now "complied with best practise".