Runners don 'bum shorts' for Preston bowel cancer charity event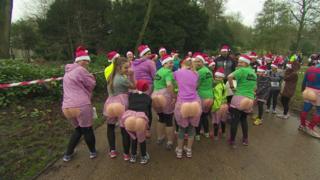 More than 200 runners wore "bum shorts", which make it appear their bottoms are exposed, to take part in a fundraiser for bowel cancer.
Fun runners donned the costume instead of Father Christmas suits for the 5km distance at Avenham Park in Preston.
It was organised by Ben Ashworth, 37, from Preston, who was diagnosed with terminal bowel cancer in 2013.
The shorts are used by the charity Beating Bowel Cancer to raise awareness about the condition.
Mr Ashworth's wife, Louise, 32, said "They [the shorts] are a fun way to get people talking about bowel cancer symptoms. It takes away the taboo."
Mr Ashworth was diagnosed with the disease in 2012 and underwent major surgery and two different types of chemotherapy before he was given up to 12 months to live a year later.
He said: "I feel so blessed to still have life and to be here two years after being given a terminal prognosis."
The father-of-three described the turnout as "amazing" and took part less than a week after his last chemotherapy treatment.