Rare Hartmann's mountain zebra born at Blackpool Zoo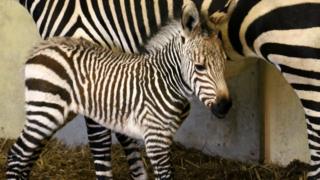 A rare zebra is the first of its kind to be born in the UK this year, according to a zoo.
The unnamed Hartmann's mountain zebra has taken his first step following his birth at Blackpool Zoo on 11 December.
They are native to Namibia and are at high risk of extinction in the wild due to hunting and loss of natural habitat.
The foal is the third of his species to be born at the zoo in the past five years. The total population is under 9,000 in the wild.
Adam Kenyon, section head of large mammals, said: "Due to their low numbers every birth is worth celebrating and we have been waiting with baited breath for eleven months."
The animals are usually found in small groups and are agile climbers.