Lancashire flooding: St Michaels residents return to homes after flood alert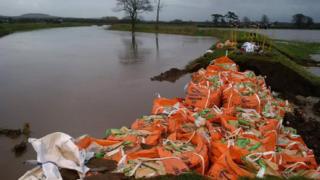 Families forced to leave their homes after a severe flood warning in Lancashire have begun to return.
Many people in St Michaels village were forced to leave their properties for several days after waters in the River Wyre reached dangerous levels.
However, emergency services joined the military to bolster flood defences, and the weather has since improved.
Some residents have now returned, but they have been advised by the Environment Agency to remain vigilant.
The advice was given as flooding hit roads in the village of Whalley on Saturday afternoon.
Lancashire Police said no homes had been affected but the situation was being monitored.
Ben Wallace, MP for Wyre and Preston North said he would seeking to find out more about financial assistance available for anyone who had been adversely affected buy the recent poor weather.
People across Lancashire have battled through five days of disruption due to heavy rainfall, which began last Saturday.
More than 50,000 homes in and around Lancaster faced several power cuts after an electricity substation was hit by a metre of water at the weekend.
Earlier this week Chancellor George Osborne announced a £50m fund for families and businesses hit by floods in Cumbria and Lancashire.
Mr Wallace said: "That money will be administered, we think through Lancashire County Council. I'm going to get all the details.
"I spoke to the chancellor last night about whether he will match-fund any charitable giving given to Lancashire, as he has done in Cumbria, and hopefully there will be some good news on that."