Lancashire farm shop admits causing E. coli outbreak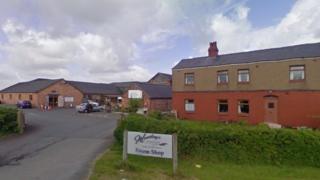 Four children suffered potentially life-threatening kidney failure after an E. coli outbreak at a Lancashire farm shop, a court heard.
Huntley's Country Stores, near Preston, admitted health and safety breaches at a lambing event in April 2014.
The four children needed life-saving kidney dialysis with one needing three operations and blood transfusions.
The farming attraction was fined £60,000 and told to pay £60,000 costs at Preston Crown Court on Monday.
In total, 15 people were struck down by the bug - 13 of them children - with nine needing hospital treatment. A further 15 possible cases were also recorded.
The four worst-affected children developed Hemolytic Uremic Syndrome (HUS) and were put on dialysis at Royal Manchester Children's Hospital after their kidneys failed.
The risk of HUS is highest in children under five and can, on rare occasions, prove fatal.
---
Catalogue of errors
Visitors allowed uncontrolled access to lambs - children could enter animal pens and roll in faeces-covered straw
During bottle-feeding, lambs were allowed to climb onto seats, leaving them soiled with faeces
Pens had open bar gates allowing contaminated bedding to spill onto main visitor area
Animals were densely packed, allowing bacteria build-up
Hand washing basins meant for visitors were used to clean animal feeding dishes
---
Juliette Martin, of Clitheroe, took her daughter Annabelle, 7, to the 'Lambing Live' event at Easter last year.
The youngster, who had bottle-fed a lamb, suffered kidney failure and needed three operations, three blood transfusions and 11 days of dialysis.
Mrs Martin said: "If we ever thought that by feeding lambs that our daughter would be fighting for her life we would never have visited Huntley's."
A spokesman for the farm shop in Samlesbury said: "Everyone at Huntley's Country Stores deeply regrets that its Lambing Live event in 2014 resulted in the serious ill health of children and an employee.
"At the time of the events, and following the reports of the outbreak of E. coli, the company co-operated with South Ribble Borough Council and has accepted responsibility in court for failings in the assessment of risks."
---
E Coli 0157 facts
E Coli 0157 is a bug passed to humans through animal faeces
Once the bacteria get into a person's system, there is no treatment
The infection attacks the kidneys and can lead to renal failure
---