Pilot of aircraft missing off Blackpool coast named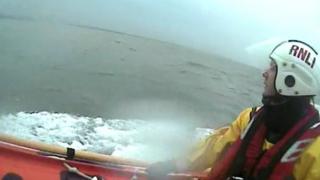 The pilot of a light aircraft that went missing as it flew over the Irish Sea has been named by police.
Ian Stirling, of Douglas on the Isle of Man, was piloting a Rockwell Commander when it disappeared from radar three miles out at sea on Thursday morning.
The 73-year-old had been due to land at Blackpool Airport. Debris and a fuel spillage have been found off the Lancashire coast.
His family said they were "hoping against hope he may be found alive".
A spokesman said Mr Stirling, who was the only person on board, was "an experienced pilot who had flown the route many times".
He added the family were "obviously in shock at what has happened".
An Air Accidents Investigation Branch spokesman said an investigation had begun.
The coastguard and council beach patrols have conducted a search of the shoreline following the discovery of the debris on Thursday evening.
Lifeboat and helicopter teams had searched a 45 sq nautical mile (154 sq km) area after the plane went missing.
The Coastguard said there was a "strong likelihood that this aircraft may have ditched into the sea".