Baldwins Crane Hire failures killed driver in Edenfield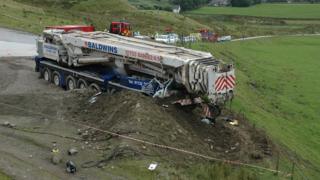 A crane hire company has been found guilty of causing a brake failure that killed one of its employees in a crash.
Lindsay Easton, 49, was driving a mobile crane at Scout Moor quarry, Edenfield when the brakes failed in 2011, Preston Crown Court was told.
An investigation found several wheel brakes were inoperable, worn and contaminated, police said.
Baldwins Crane Hire Ltd was found guilty of corporate manslaughter and is due to be sentenced on 22 December.
It also failed to ensure the safety of its employees and the safety of other persons.
Mr Easton, from Sowerby Bridge, West Yorkshire, was driving the 130-tonne vehicle on a steep access road before losing control and crashing into an earth bank on 15 August.
He died from multiple injuries.
An investigation by police and the Health and Safety Executive found the braking systems were "either non-functional, disabled and damaged providing only limited braking force".
Brakes were inspected across the firm's fleet with several other cranes found to have significant issues which required immediate work, police said.
In a statement, Mr Easton's family said: "We hope that this case has highlighted the need for regular and supervised maintenance of heavy cranes and that lessons can be learned by those in the crane industry."
Det Insp Jim Elston said: "Tragically the gross failings of the company management have led to the death of an experienced crane driver doing his job and caused enduring heartache for his family."
Baldwins Crane Hire Ltd is a national firm split into four divisions; heavy cranes, small cranes, a contract lifting division and a mechanical and electrical division.