Ormskirk bridge has 18-tonne weight limit imposed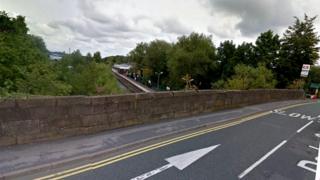 Heavy lorries are to be banned from a nearly 170-year-old railway bridge in Lancashire.
Inspectors say the Grade II listed bridge in Derby Street, Ormskirk, needs a weight limit to preserve it.
Lancashire County Council said it had no option but to impose the restriction on the bridge, which carries the A570 over the Liverpool-to-Ormskirk railway.
The council has set an 18-tonne limit after experts expressed concerns over structural problems.
The restriction on the bridge, which opened in the 1840s, will come into force on 8 January.