Wayne Hollerin: Blackpool 'God message' attacker jailed for life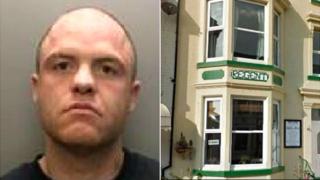 A man who tried to kill a woman he had met on Facebook after claiming he had received a "message from God" has been jailed for life.
Wayne Hollerin beat the 21-year-old from Cumbria with his fists and a pint glass at the Regent Hotel in Blackpool after she refused to have sex with him.
The 35-year-old from Sheffield later claimed he was trying to "release her spirit from her mortal body".
He was convicted at Preston Crown Court of her attempted murder on 11 June.
Hollerin will serve a minimum of four years.
He was cleared on a charge of attempted rape.
'Horrific'
The hotel owner tried to intervene during Hollerin's "savage" attack, Lancashire Police said, but was unable to stop him.
A group of workmen then ran to the scene and restrained the 35-year-old, who had been drinking and taking amphetamines.
Det Insp Mark Dickinson said the injuries of the victim, who was left naked and covered in blood, were "horrific" and "the likes of which I have never seen before throughout my police career".
The woman continues to receive treatment for a facial injury which she suffered in the attack.
Speaking after Hollerin was sentenced on Friday, Mr Dickinson said: "It is without doubt that the workmen who bravely stepped in saved the victim's life.
"So my thanks - and indeed the gratitude of the victim - goes to them and the hotel owner who alerted them."