Blackpool Council reveals plans to cut 250 jobs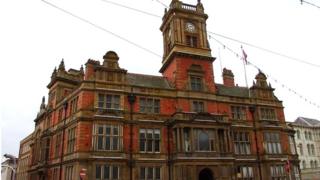 Blackpool council is to cut 250 jobs out of an estimated 2,500 workforce, as it seeks to save £20m in the next financial year.
The authority is also reviewing its council tax freeze for the first time in four years.
The Labour-led council is cutting 200 workforce jobs and ending 50 contract posts - it has axed 700 jobs over the past two years.
The Conservatives blamed financial "incompetence" for the job losses.
Staff are being urged to take enhanced voluntary redundancies before 14 December and all employees are being asked to volunteer for five days unpaid leave annually.
Simon Blackburn, leader of the council, said: "Blackpool has been one of the hardest hit councils in the country, being forced to make £93m worth of cuts since 2010."
Tony Williams, leader of the Conservative group said: "I feel sorry for the staff who are losing their jobs because of the millions of pounds this council has wasted."
Libraries pledge
The council is working on the basis it will have to save £20m even though it will not know how much money it will receive from the government until after the Comprehensive Spending Review announcement on 25 November.
The final budget decision will take place at a full council meeting on 25 February.
It has pledged to keep all eight local libraries, its SureStart Centres, street cleaning and school crossing patrols.
But the adult social care budget is facing cuts along with services such as green waste collection.