Blackpool FC president sues Oystons over 'missing millions'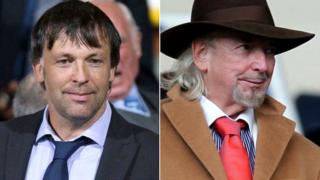 The president of Blackpool Football Club has begun legal action against its owners amid concerns about the alleged transfer of millions of pounds away from the club's accounts.
Businessman Valeri Belokon, who owns a 20% share in the club, claims Karl and Owen Oyston have improperly transferred cash sums to their own companies.
He has issued a claim for "unfair prejudice" at London's High Court.
A spokesman for Blackpool Football Club said there would be "no comment".
Mr Belokon claims millions of pounds were transferred to the Oystons' companies "via unsecured interest-free loans and directors' remuneration payments".
The Latvian businessman launched the action via his company VB Football Assetts on Tuesday.
He has also issued proceedings against the Oystons' company Segesta Ltd, concerning an investment it made in July 2008.
Mr Belokon bought shares in the club in 2006 and was heavily involved in their rise which culminated in promotion to the Premier League in 2010.
But the Tangerines have since suffered two relegations and currently languish second from bottom in English football's third tier.
Blackpool supporters have been involved in demonstrations, match boycotts and social media campaigns in protest at the way the Oyston family runs the club.
Steve Rowland, chairman of Blackpool Supporters' Trust, said it had been in touch with Mr Belokon and were expecting him to take legal action.
Mr Rowland said he understands Mr Belokon has loaned millions to the club.
"He is of the opinion, rightly or wrongly, that the Oystons have made millions and their businesses have profited, and that that money hasn't all gone into the footballing side of the business," he said.
"I suspect he's reached the stage where he would like to have more of a say in the boardroom, and if that's not possible I think he would like to take his money and go."