Lancashire boil water warning continues after two weeks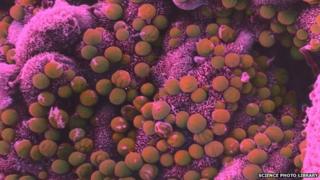 A water company has said it does not yet know when the water in parts of Lancashire will be clear of a bug that has affected it for a fortnight.
United Utilities is installing UV rigs at eight sites in Lancashire to kill cryptsoporidium, a microbial parasite that causes diarrhoea and cramps.
Almost 300,000 households have been boiling their water since 6 August.
The water company says once the work begins they will have a clearer idea of when restrictions can be lifted.
Lyn Day, owner of Lyn's Lunchbox in Preston, said the restrictions had been "horrendous".
Her café shut when the boiling water notice was introduced after cryptosporidium was found in the water.
Levels of cryptosporidium are now "very low" but the company urged people to continue boiling water.
The warning was originally issued after traces of the bug were found at the Franklaw treatment works near Preston.
Affected areas include Blackpool, Chorley, Fylde, Preston, South Ribble, Wyre and the Mellor area of Blackburn.
Lyn Day said her café has had to close because of the restrictions and she has "lost £2,064 in total as a result."
She said: "It's getting beyond a joke now - it was only to be for a few days and now it's going into another week I'm led to believe.
"I'm only a small café - I do not have the facilities to store boiled water."
Gary Dixon, customer services director for United Utilities, said he sympathised with the impact on customers and had clearly said they would be compensated.
"We are installing UV rigs at strategic locations across the 2,500 miles of our network, including three at Blackpool," Mr Dixon said.
Mr Dixon said once the rigs were operating they hope to have a more accurate forecast of when restrictions will be lifted.
Infection with the bug can cause diarrhoea and abdominal cramps.
---
Have you been affected by the water bug? How are you coping with the situation two weeks on? Email your experiences to haveyoursay@bbc.co.uk Please include a contact number if you are willing to speak to a BBC journalist. You can also contact us in the following ways: