Troubled teenager Paige Chivers groomed then murdered
By Lynette Horsburgh & Helen Carter
BBC News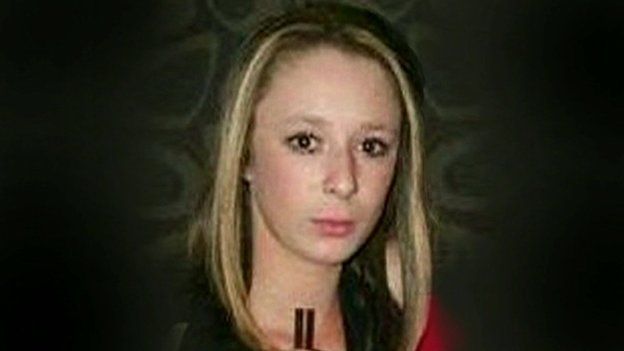 After a row with her father, Paige Chivers threw her belongings into two carrier bags and left home in Blackpool. Within weeks, she was murdered by the one person she turned to for help. Her body has never been found. But how was a vulnerable 15-year-old allowed to drift then disappear without trace?
Paige Chivers had a troubled childhood. Expelled from school at 13, she drifted for the next two years, listlessly passing the time drinking alcohol and smoking cannabis.
She had been due to return to education after a lengthy absence but she was murdered by Robert Ewing, 37 years her senior, who had groomed her for sex.
He was convicted of murder at Preston Crown Court on 7 July following a three-month trial, but it could only be reported after the jury returned verdicts on his co-defendant, Gareth Dewhurst, 46, who was convicted of disposing of her body three days later.
Both men were found guilty of perverting the course of justice by intimidating witnesses and laying false trails.
The case has raised questions about why the authorities failed to protect a vulnerable teenager and how Lancashire Police made a significant error.
Paige Chivers' chaotic and dysfunctional family life began to spiral out of control in 2005 when she was expelled from Montgomery High School in Bispham.
Two years later, in February 2007, her mother Sheila Houghton died.
Her father Frank Chivers - who was accused of physically abusing her - offered Paige and her younger brother Jack, then 14, little support in their grief. He was rarely at the family home after starting a relationship with another woman.
Jack, now 22, described Paige as a "wild" child.
On the day she left home, 23 August 2007, their father called Jack telling him he would "kill her" when he got home for stealing from his wallet.
It was then Paige packed her belongings and left.
When Mr Chivers returned and found his daughter gone, Jack just "shrugged it off". It was not unusual for Paige to disappear for days on end.
But the time already elapsed was compounded when the police operator recorded the year of Paige's birth incorrectly - as 1962 not 1992 - and that she had left home voluntarily.
The additional vital days were lost as officers were looking for a 45-year-old woman who had left home of her own accord, instead of a vulnerable 15-year-old.
It was not until 7 September when this was rectified.
Lancashire Police accepted the error and has voluntarily referred itself to the Independent Police Complaints Commission, but did this 12-day delay allow Ewing to cover up vital evidence?
The jury heard she was murdered within a four-day time frame of leaving home.
Blood spots matching Paige's DNA were found at Ewing's flat which he claimed was from a cut on her arm, but a forensic expert in court said they could not have come from a single cut.
Ewing replaced a piece of carpet around the time Paige went missing, saying he had done so because his cat urinated on it.
Paige had met Ewing through Tiffany Bell, the ex-girlfriend of her half-brother Peter Houghton.
She was known to hang out with older people and had stayed overnight at Ewing's flat. He was 52 at the time.
The trial heard he had an "inappropriate sexual interest" in Paige and exploited her chaotic family background to groom her.
He denied sexual contact but police found photographs in his flat and on his phone of the teenager posed with her top pulled up and the word "sex" written on her abdomen with a downwards-pointing arrow.
The prosecution said Ewing had wanted to see what official reaction there would be to a 15-year-old girl turning up on the doorstep of a 52-year-old man.
"The answer he learned... was very little," said Brian Cummings QC.
She was clearly vulnerable but what did the authorities do to protect her? Little is known about her contact with social services and Blackpool Council has yet to comment on the case.
In May 2007 Paige contacted Connexions, a council-run support centre in Blackpool for 13 to 19-year-olds.
Ewing later claimed this was where she was heading when witnesses saw the pair together at a bus stop on 23 August. However, she never arrived. He was jailed for life and will serve at 33 years in prison.
Dewhurst was jailed for eight years.
Gabrielle Shaw, chief executive officer of the National Association for People Abused in Childhood (Napac), said it was "an extremely sad and disturbing" case.
She said although safeguards were in place to protect vulnerable children she questioned if they did enough to protect Paige.
The risk of grooming in the UK was a "significant and growing problem", she added.
Child sexual exploitation referrals in West Lancashire, which includes Blackpool, rose from 393 in 2013-14 to 564 in 2014-15 - an increase of 44% - according to police data.
There are striking similarities with the case of Charlene Downes, another Blackpool teenager who disappeared near the town's North Pier in 2003 and whose body has never been found.
Police believe the 14-year-old was also groomed and then murdered.
Joanne Cunliffe, reviewing lawyer for the Crown Prosecution Service (CPS) North West said: "At the time of her disappearance Paige had very little stability in her life and Robert Ewing took advantage of this.
"He was a middle-aged man who befriended her, not for any charitable reasons, but because he had an inappropriate sexual interest in her. Although we will never know the exact circumstances, the jury in delivering their guilty verdict have found that soon after Paige went missing he killed her in his flat. Gareth Dewhurst knew about the murder and helped Robert Ewing dispose of her body."
She said neither "has ever shown any remorse" and over the years since she went missing "they have done everything they could to cover their tracks, to divert inquiries away from them and try to put the blame on other people."
The police and CPS "remained determined throughout to uncover the truth and bring justice for Paige," she added.
In the wake of Charlene's case Blackpool Council and Lancashire Police launched Awaken, which the authority claimed was a flagship project to tackle child sexual exploitation.
But Blackpool Council has declined numerous opportunities to comment about Paige.
Stockport MP Ann Coffey said she remained concerned about missing children and the risk of sexual exploitation.
She also said agencies clearly "need to understand the importance of sharing data".
Ms Coffey said when a child was reported missing, information should be made available to police to ensure an "appropriate response".
Sadly, in Paige Chivers' case, that never materialised.
Related Internet Links
The BBC is not responsible for the content of external sites.