Blackburn bus station contractors sacked in safety row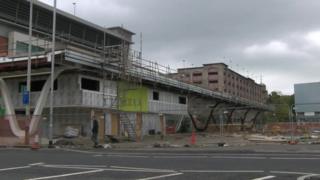 The main contractors working on Blackburn's new £5m bus station have been sacked amid claims the design of the structure is not safe.
Blackburn with Darwen Council said it has terminated its contract with Thomas Barnes Plc.
The Bury-based construction firm issued a counter-claim saying it had repeatedly expressed "concerns over the structural integrity of the design".
The council said it would not comment on doubts over the structure's safety.
'Decisive action'
The building's designer Capita also refused to comment on the concerns but said in a statement it was "continuing to work with the council on the delivery of Blackburn bus station".
Thomas Barnes, director of Thomas Barnes & Sons Group Plc said: "On numerous occasions, we have expressed our concerns over the structural integrity of the bus station's design by Capita and what this means in terms of delivering a safe transport hub given the budgets and resources available."
He said independent structural engineers inspected the structure in April but, although the firm requested the results of the investigation, the council has refused to provide a copy of the report.
He added the matter was now in the hands of its legal advisers.
Councillor Phil Riley, executive member for regeneration at Blackburn with Darwen Council, said it had taken "decisive action" to ensure the bus station progresses.
"We have terminated the contract with Thomas Barnes and are proceeding with procuring a contractor to complete the development.
"It is important that people understand we have been acting under legal privilege so we have been unable - rather than unwilling - to provide an update before now."
Mr Riley said the project will still be completed by January at no extra cost to public finances.
The new bus station is part of the £40m Pennine Reach programme.