Cuadrilla: Fracking firm seismic monitor plan refused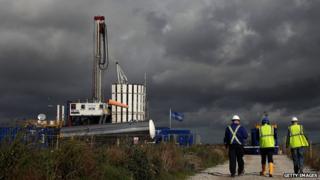 Lancashire county councillors have rejected plans for fracking company Cuadrilla to carry out seismic and pressure monitoring at a county site.
Planning officers, the Health and Safety Executive and the Environment Agency recommended approval.
But the development control committee turned down the application which had received more than 300 objections.
Later this year the county council will decide whether to give the company permission to frack at two sites.
A Cuadrilla spokesman said the company was "perplexed and disappointed" by the decision.
A spokesman for Lancashire County Council said: "The development control committee voted for the application be refused on the grounds that it considered it contrary to policies in the development plan."
Cuadrilla had applied to use an existing well at Grange Hill, Singleton to carry out seismic and pressure monitoring after which the well would have been plugged it with cement.
Earlier in the month the company was granted an environmental permit to frack at a second site in Lancashire.
Its application to frack at Roseacre Wood, Elswick has been backed by the Environment Agency (EA), which has already given a permit to frack at Little Plumpton.
The county council will make the final decision on whether to allow the company to frack at the two sites in April
Council planners recommended refusal last month, prompting Cuadrilla's successful request for a deferral until 30 April.
Fracking - or hydraulic fracturing - is a technique in which water and chemicals are pumped into shale rock at high pressure to extract gas.
It was suspended in the UK in 2011 after fracking of shale gas deposits near Blackpool was linked to two minor earthquakes.
A government report published in 2012 concluded fracking was safe if adequately monitored.