Colin Hendry: Drink-drive charge for ex-Scotland captain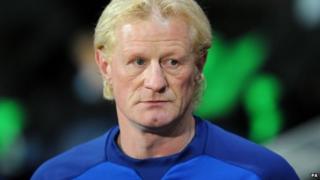 Former Blackburn Rovers and Scotland footballer Colin Hendry has been charged with a drink-drive offence.
Lancashire Police said Mr Hendry was stopped by police officers in a blue Ford Focus on Church Road, Lytham at 01:15 GMT on Saturday.
Mr Hendry, of Coopers Row, Lytham, was charged and bailed to appear before Blackpool Magistrates on 4 March.
His playing career took in Manchester City, Rangers, Bolton Wanderers, Coventry and Blackpool.
The central defender captained his country and played in both the 1996 European Championship and the World Cup two years later.
Hendry was also a member of the Blackburn side which won the Premier League title in 1994-95.
Since then he has managed Blackpool and Clyde.