Roseacre Wood fracking: Cuadrilla gets Environment Agency permit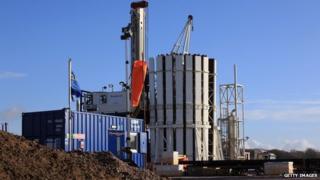 Energy company Cuadrilla has been granted an environmental permit to frack at a second site in Lancashire.
Its application to frack at Roseacre Wood, Elswick has been backed by the Environment Agency (EA), which has already given a Little Plumpton permit.
Lancashire County Council (LCC) now has the final decision on whether to allow the company to frack at the two sites.
LCC planners recommended refusal last month, prompting Cuadrilla's successful request for a deferral until 30 April.
'Fracking guinea pig'
In advising the council to turn down Cuadrilla's applications, planning officers' report highlighted noise and traffic problems.
LCC said its final decision would follow a "consultation with regulators and the public" about those concerns, which Cuadrilla said it would "fully address".
The energy firm's chief executive Francis Egan said the EA's approval demonstrates its "proposed exploratory operations will be carried out responsibly ensuring the local environment is protected".
Cuadrilla must protect groundwater, surface water, air quality and ensure the safe storage, management and disposal of waste under the conditions of EA's permits.
However, Helen Rimmer from Friends of the Earth said the permits "need serious scrutiny" because of the "high environmental risks of fracking" including air pollution, climate change and toxic wastewater.
She added: "Ultimately it is for elected councillors to decide whether Lancashire becomes the UK's fracking guinea pig. With clear opposition to the plans, [LCC] should listen to communities and follow the example of Wales and Scotland by rejecting deeply unpopular fracking."
Fracking - or hydraulic fracturing - is a technique in which water and chemicals are pumped into shale rock at high pressure to extract gas.
It was suspended in the UK in 2011 after fracking of shale gas deposits near Blackpool was linked to two minor earthquakes.
A government report published in 2012 concluded fracking was safe if adequately monitored.