Deer cull 'only option' at Leighton Moss in Silverdale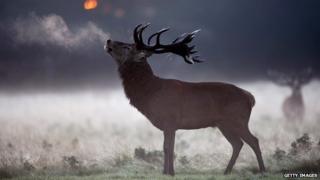 A cull of red deer at a nature reserve in north Lancashire is the only option to control numbers, the RSPB has said.
Animals rights groups oppose the plans to shoot about 10 of the reserve's red deer at RSPB's Leighton Moss reserve in Silverdale.
But the conservation charity said the population needs controlling to protect the site and its bird life.
Reserve manager Robin Horner said it was an "emotive subject" but "science tells us we need this control".
Leighton Moss is designated as Site of Special Scientific Interest (SSSI) and a Special Protection Area (SPA) with about 60-90 deer at the reserve and the surrounding area.
'Legal responsibility'
Mr Horner said: "We're not trying to eliminate red deer from Leighton Moss. It's not a problem having them here it's just there's a few too many.
"This is all about the fact that the red deer population at Leighton Moss and the surrounding area has been increasing and they are spending more and more time in the reed beds.
"Because of this they are causing damage within the reed bed which is affecting some of the key species that the reserve is nationally and internationally important for and for which we have a legal responsibility to manage.
"Things like bittern and marsh harrier and the bearded tit which all need good strong, dense areas of reed to breed within."
He said the charity had looked at other non-lethal options including fencing and birth control before determining a cull the only remaining option to restore the quality of the habitat.
Marianne Birkby, who lives near Milnthorpe, said there is no need for the animals to be culled because the deer are not there in great numbers.
She said: "These are the oldest genetic form of red deer that you will find in the UK and there's only ever about 20 that actually visit the reserve, and they don't all visit at the same time.
"Only several will visit the reserve at any one time and the RSPB tend to be laws unto themselves."
Red deer
Britain's largest land mammal. When fully grown males (stags) weigh up to 190kg (418lbs) and stand at up to 1.37m (4ft 5ins) tall at the shoulder.
Red deer are a distinctive rusty red colour in summer turning to a brown winter coat.
They prefer to eat grasses and dwarf shrubs associated with moorland such as heather but will eat woody plants and young shoots when food is scarce.
The breeding season, or rut, occurs from the end of September to November when stags engage in elaborate displays of dominance including roaring and fighting. Serious injury and death can result but fighting only occurs between stags of similar size that cannot assess dominance by any of the other means. The dominant stag then ensures exclusive mating with the females (hinds).
Source: The British Deer Society