Lancashire fracking: Jobs claim is over-hyped, Friends of the Earth claims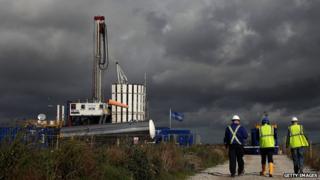 The number of jobs that would be generated by the fracking industry in Lancashire has been "over-hyped", Friends of the Earth (FoE) has claimed.
More employment opportunities would instead be created in the county by investing in renewable energy sources, the environmentalist group said.
Energy firm Cuadrilla has said fracking would create 1,700 jobs in Lancashire in the first year alone.
The body representing UK onshore oil and gas firms backed that estimate.
"The North West has world-class renewable resources and investment should focus on clean energy technologies such as tidal, solar and offshore wind, and energy efficiency - which tackle climate change and create more jobs than over-hyped fracking," said Friends of the Earth's North West Campaigner Helen Rimmer.
She added that a report from her organisation demonstrated that 24,000 jobs could be supported in renewable energy sources in the North West.
But fracking jobs, she said, tend to be short-term.
'One year only'
Ms Rimmer added: "Cuadrilla claims shale gas production would create 1,700 jobs in Lancashire but this figure is for one year only, and falls to under 200 only three years afterwards."
The North West Energy Task Force (NWETF), which is backed by Centrica Energy and Cuadrilla Resources but says its activities and views are independent of its financial supporters, said: "Friends of the Earth are wrong to present the development of natural gas from shale as an either/or situation.
"The UK needs to maximise the development of all its energy sources, including shale gas, renewables and investment in efficiency measures."
United Kingdom Onshore Oil and Gas (UKOOG), which represents the onshore oil and gas industry, added: "The onshore job creation figures in the UK are borne out by the experience of the UK's well-established offshore oil and gas industry, which is responsible for over 450,000 jobs."
Later this month Lancashire County Council will make a final decision on Cuadrilla's planning application to frack at the Plumpton site and at Roseacre Wood.
Fracking - or hydraulic fracturing - is a technique in which water and chemicals are pumped into shale rock at high pressure to extract gas.