Plumpton fracking: Cuadrilla granted environmental permits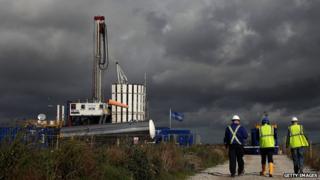 The Environment Agency (EA) has granted energy firm Cuadrilla a permit to frack at one of its sites in Lancashire.
The environmental permit is required by the firm before it can extract shale gas at its proposed site at Preston New Road, Little Plumpton.
The county council will make a final decision on Cuadrilla's planning application to frack at the Plumpton site and at Roseacre Wood this month.
Residents Action Fylde Fracking said it was "disappointed" by the news.
Cuadrilla, which is waiting for a similar permit for its Roseacre Wood site from the EA, said the granting of the permit was "an important seal of approval".
Chief executive Francis Egan said: "People should take a lot of reassurance with the thoroughness that the EA has put into this that it can be done in an environmentally responsible way."
The EA said it conducted a "rigorous assessment" of Cuadrilla's applications over the last six months including two extensive public consultations.
'Clear risks'
Under the conditions of the permit, Cuadrilla must protect groundwater, surface water and air quality and to ensure the safe storage, management and disposal of waste.
EA's environment manager for Lancashire Steve Molyneux said it was "confident the permits issued will ensure people and the environment are protected".
"The right controls are in place to manage waste and the flaring of gas safely, and protect local water resources."
Anti-fracking campaigners say fracking is harmful to the environment.
Residents Action on Fylde Fracking (RAFF) said it was "gravely concerned" by the EA's decision.
"There are clear health and environmental risks associated with fracking and these risks have been highlighted in 27,000 objection letters which have been delivered to Lancashire County Council regarding Cuadrilla's two planning applications for Lancashire."
Fracking - or hydraulic fracturing - is a technique in which water and chemicals are pumped into shale rock at high pressure to extract gas.
The technique was suspended in the UK in 2011 after fracking of shale gas deposits near Blackpool was linked to two minor earthquakes.
A government report published in June 2012 concluded fracking was safe if adequately monitored.