Dry cleaners Johnsons Cleaners to close 109 high street shops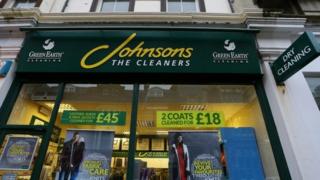 A Lancashire-based dry cleaning chain has announced the closure of 109 of its 307 high street stores.
Johnsons Cleaners, which has its headquarters in Preston, said lease renewals due within the next two years "will not be financially viable".
The firm said it would be opening 46 more stores in Waitrose supermarkets where it already has 78 shops.
It would not give the number of staff affected but about 400 people work in the shops set to close.
The company said it was in consultation with affected employees.
It said it anticipated that branches would close during the first half of the year.