Safety fears as £22m Blackpool sea defences collapse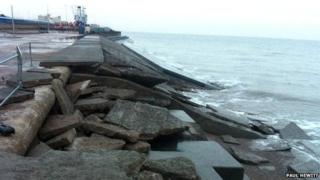 Urgent talks are being sought with contractors after initial construction work to build a new £22m sea wall at Blackpool collapsed following storms.
Concerns were raised by residents and councillors when stone foundations and a concrete base at Anchorsholme crumbled into the sea.
The scheme in the north of the resort, is part of a £86m programme for new sea defences.
Building firm Balfour Beatty said it was working to rectify the damage.
Work on the scheme began in April as part of a joint programme between the Environment Agency and Blackpool and Wyre councils, which is also bolstering flood defences at Rossall.
Conservative councillor for Anchorsholme Paul Galley said: "The foundation area for the new promenade which is the core casing over the old promenade... has collapsed over Christmas and it has caused a lot of concern because obviously this is the bit that is meant to hold all the weight for the completed tonnage."
"When the project was first started there was a lot of euphoria and people were very excited. Now with the fact it has collapsed there is genuine concern over how safe it will be."
Safety fears
Resident and local builder Paul Hewitt claimed the work is breaking up daily and the concrete has "collapsed" several times.
"We warned this would happen weeks ago," he said.
"I fear what could happen if kids go walking on the sea wall slope."
Councillor Fred Jackson, cabinet member for urban regeneration said most of the damage was caused to a concrete layer - or blinding - which he said will be protected by wave breaker units when work is completed.
"Once installed these units will be able to withstand the force of powerful waves thereby safeguarding the community," he added.
Blackpool Council's Conservative leader Tony Williams has called for an engineer's report into the damage.
A spokesman for Balfour Beatty said: "Progress on the Fylde Peninsular Coastal Programme (FPCP) has been impacted by severe coastal storms and abnormally high tides in recent months with the concrete blinding and stone foundations in part of the Anchorsholme section being temporarily affected.
"We are working to rectify the damage which has occurred as quickly as possible and we will continue to work closely with our partner on the Fylde Peninsular Partnership, Blackpool Council, to complete the scheme by Autumn 2015."