Shattered fish tank stops Warrington house fire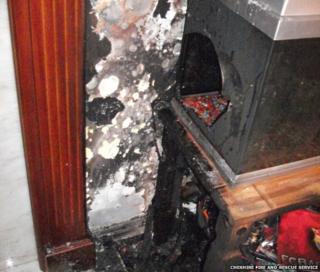 A shattered fish tank stopped a fire from spreading through a house in Warrington.
About 22 gallons (100 litres) poured out of the tank after part of it smashed during the blaze in Mossdale Close, which was sparked by a candle.
Firefighters used more water to put out the flames in the lounge after being called at 06:55 GMT.
Steve Whitehall, who lives in the property, said 13 fish died but two survived in the water left in the tank.
"We often have candles burning around the house, and are usually very careful about making sure they are all out before we go to bed or go out," he said.
"Unfortunately, we missed one and I cannot believe the damage that has been caused from just that one candle."
Tony Taylor, crew manager at Cheshire Fire and Rescue Service, said: "The Whitehalls have had a very lucky escape from what could have been a much more serious incident."