More than 100 guns handed to Lancashire Police in amnesty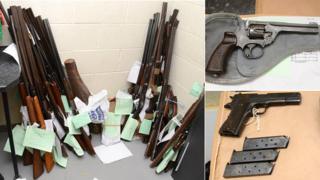 More than 100 guns and 3,500 rounds of ammunition have been handed in during a weapons amnesty in Lancashire.
Officers collected 46 shotguns, 41 air guns and several pistols during the two-week hand-in last month.
Lancashire Police said the operation was only going to last a week, but was extended due to "its success".
The force said the majority would be destroyed, but some First World War weapons and rare American guns would be offered to the Royal Armouries.
Supt Jon Puttock said: "Clearly it's concerning to see so many dangerous weapons on the street but taking these firearms and ammunition out of circulation can only be a good thing."