Illegally held guns handed to Lancashire Police for surrender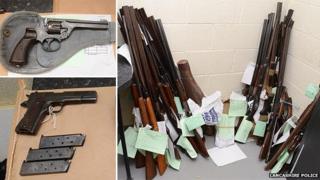 More than 100 guns and 3,400 rounds of illegally-held ammunition have been handed in to Lancashire Police during a two-week surrender.
Some of the items will be tested for ballistics, but the majority will be destroyed, police said.
Amongst the weapons handed in were a stun gun disguised as a torch and guns dating back to World War One.
For two weeks in November, those surrendering firearms did not face prosecution for illegal possession.
Rules for buying working antique guns were tightened in July, preventing convicts from buying or owning one.