Samlesbury enterprise zone is worst-performing, ministers say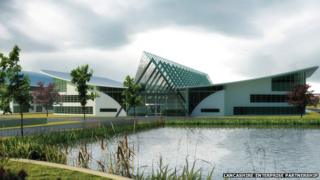 An enterprise zone which has not yet created jobs has been called England's "worst-performing" by ministers.
The Department for Communities and Local Government said the Samlesbury site in Lancashire had not "attracted new businesses" ahead of its opening.
In a letter, MPs Greg Clark and Penny Mordaunt said progress on the site, due to fully open in 2015, was "slow".
Lancashire County Council leader Jennifer Mein said "the vision of creating 6,000 jobs remains intact".
She said the site, which was announced by Chancellor George Osborne in 2011, was "on target" to create its first new jobs in 2015.
The government-backed enterprise zones aim to create jobs and boost businesses in 24 areas across England.
In addition to offering firms payment holidays on business rates, they have fewer planning restrictions.
Ms Mein said the plan for Samlesbury had been delayed by the transfer of ownership of the land from previous owners BAE Systems' pension fund, but a deal had now been completed.
'Plans on course'
In the letter to Lancashire Enterprise Partnership (LEP) chairman Edwin Booth, dated 27 November, the local growth and enterprise zones ministers said the site, near Preston, was the only one not to have made progress.
They also questioned the LEP's "ability to deliver the enterprise zone successfully" and suggested LEP board member Mike Damms take on specific "responsibility for oversight of the Enterprise Zone" under Mr Booth.
In an additional statement, Ms Mordaunt said despite the criticism, she would continue to support the site and was "pleased with recent progress, notably the agreement of the land deal".
Mr Booth, chairman of Booths supermarkets, said he had been able to assure government officials "with confidence that the enterprise zone plans remain on course".
"This is a large-scale development with a 25-year lifespan," he said.
"There are considerable complexities to it that the LEP and its partners must negotiate effectively in order to secure the best outcome."
He said announcements about the site would soon be made and it would eventually build on "Lancashire's status as a world-class location for advanced engineering and manufacturing".