Paige Chivers: Robert Ewing denies Blackpool teenager's murder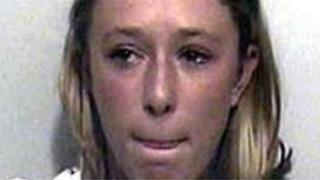 A man has denied murdering a teenaged girl from Lancashire who has been missing for seven years.
Paige Chivers was 15 when she was last seen in during the August 2007 bank holiday weekend in Bispham, Blackpool.
Robert Ewing, from Bispham, Blackpool pleaded not guilty to murdering the teenager between 23 and 27 August 2007 and perverting the course of justice at Preston Crown Court.
The 60-year-old was remanded in custody and is due to stand trial on 14 April.
Mr Ewing is accused of perverting the course of public justice, namely by intimidating witnesses and providing false information to the police about Paige's disappearance between 23 August 2007 and 22 September 2014.
Gareth Dewhurst, 45, of Duncan Avenue, Blackpool also appeared in court, charged with a serious sexual offence, assisting an offender in disposing of the teenager's body between 23 and 27 August 2007 and perverting the course of justice.
Mr Dewhurst, who denied the charges, was remanded in custody and will also face trial with Mr Ewing in April.
The case is listed to last 12 weeks.
Paige Chivers has never been found, despite numerous appeals, rewards, and a long-running police investigation.
It was previously reported that she was last seen on 23 August 2007 at a bus stop in Ashfield Road, Bispham, carrying a bag or suitcase after a row.
However, police said this was no longer the case and they could only confirm that she went missing "some time over the bank holiday weekend".