Eric Morecambe Trophy: Luton Town v Morecambe in first match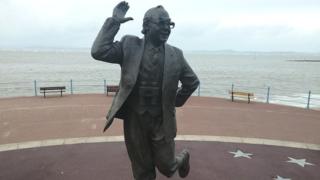 A football match saw players contest the first ever Eric Morecambe Trophy in tribute to the late comedian.
The League Two match between Morecambe FC and Luton Town, played in Lancashire, celebrated the restoration of a statue of the TV star.
The statue has been repaired and reinstalled in Morecambe after a man tried to saw off one of its legs.
To mark the occasion, its sculptor Graham Ibbeson created the Eric Morecambe Trophy for Saturday's match.
Luton Town was the Morecambe and Wise star's favourite team, while Morecambe FC was his home town club.
Morecambe were comfortable victors thanks to a 3-0 win, courtesy of goals from Kevin Ellison, Mark Hughes and Padraig Amond.
'Marvellous occasion'
Gary Sweet, chief executive of Luton Town, said: "I was absolutely gobsmacked when I heard the news about the vandals attacking 'our Eric' and we're delighted that not only will he be back on his feet, but we're able to join Morecambe in celebrating Eric's tie with both clubs.
"Eric did so much to raise the profile of Luton Town, he is our most famous supporter of all time and we're proud to have such an affinity with a man whose legacy still very much lives on at Kenilworth Road."
A man was detained under the Mental Health Act after the statue was vandalised in October.
Born John Eric Bartholomew, Morecambe was most famous for Morecambe and Wise - a double act Ernie Wise produced for stage and television.
Their Christmas specials were a highlight of the festive period, attracting more than 27 million viewers in 1977.
He died in 1984 after collapsing on stage.