First phase of City Deal for Preston and South Ribble is complete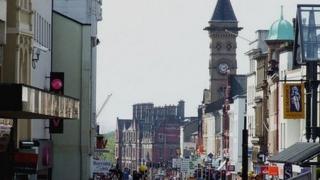 The first part of a £430m council project to ease traffic congestion in Lancashire has been completed.
The government-funded City Deal scheme includes four new major roads being built and road improvements in the Preston and South Ribble areas.
The two councils and Lancashire County Council (LCC) hope the 10-year project, which also includes new homes, will attract new businesses and investment.
LCC said road changes in Penwortham Way "forms the backbone" of the City Deal.
The Penwortham Way work at the junction with Chain House Lane included road widening and resurfacing to "make it much easier for people to get around" Preston, LCC said.
The three councils are part of the Lancashire Enterprise Partnership, which looks to boost the local economy by working with businesses and universities.
In October 2012, the government invited 20 cities and their wider areas, including Preston, to negotiate for the second wave of City Deals, which will see devolved powers in exchange for responsibility for delivering growth locally.