'Morecambe birdman': John Wilkinson ordered to limit pigeon feeds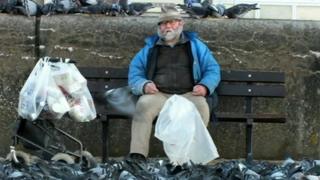 A man who loves to feed pigeons has been ordered to cut down on the amount he gives to his feathered friends.
John Wilkinson, known as the 'Morecambe Birdman', has been doling out 40kg (88lb) of birdseed every day but has now been told to stick to a 0.5kg (1.1 lb) limit, three times a week.
His renewed Anti-Social Behaviour Order (Asbo) follows three weeks in jail this spring for ignoring a previous order.
Lancaster City Council said he had caused his neighbours "huge problems".
The council said that, for many years, Wilkinson had been feeding up to 300 pigeons a day outside his home on Cavendish Road and in neighbouring areas.
He also liked to treat them to pizza, pasta and "processed ready meals".
'Numerous complaints'
The flock would perch on rooftops, where their excrement caused blocked and leaking gutters and their noise disturbed residents' sleep, the council said.
A spokeswoman said the council had received "numerous complaints over a number of years from residents, shopkeepers and local businesses".
Earlier this year, about 40 protesters turned out to campaign for Wilkinson's release from prison.
Organiser Rita Patton, from Morecambe, said at the time: "His mum used to do it and it was her dying wish he fed the birds.
"He has done wrong breaking his order but he's just doing what he believes in."
'Worst excesses'
Councillor Karen Leytham said the decision to extend the Asbo against Wilkinson "was not taken lightly" and sought to "curb the worst excesses".
She added the council had worked with police, social services and local residents "to support Mr Wilkinson in the past, both in relation to his housing conditions and his bird-feeding behaviour.
"Unfortunately, despite our best efforts, he has continued to cause huge problems for his neighbours and the council has a duty to act on these complaints and protect the public from his anti-social behaviour."
The Asbo, extended to December 2015, forbids Mr Wilkinson from feeding pigeons within 100m of his home.
He is allowed to feed pigeons with 0.5kg of bird seed between 09:30 and 10:30 on Mondays, Wednesdays and Fridays.