Sophie Jones methadone death: Parents jailed for eight years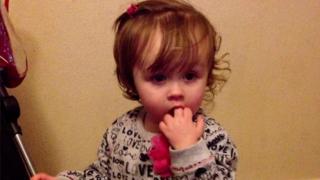 The parents of a two-year-old girl who died after drinking a heroin substitute have both been jailed for eight years for her manslaughter.
Sophie Jones died after swallowing methadone, prescribed for her mother, which had been left in a child's cup at their home in Blackpool on 4 March.
Barry Jones, 42, was found guilty of manslaughter and child cruelty, at Preston Crown Court in November.
Michelle King, 30, her mother, admitted manslaughter at an earlier hearing.
The court heard the pair put their drug use above the health and safety of Sophie, with the child exposed to both heroin and cocaine at their Jameson Street home.
Police said the methadone was left in a place where the toddler had "easy access to it", with a large number of children's fruit juice bottles containing traces of the drug also found in a bin.
Simon Medland QC, prosecuting, said it had been stored in a beaker decorated with Tom and Jerry characters and identical to one the child used regularly.
During the trial, the prosecution said the couple made £300 a month from selling methadone to drug addicts.
The drug had been prescribed to help King end her addiction.
Judge Mrs Justice Carr said it was "difficult to think of more extreme negligence".
Wendy Lloyd, from the Crown Prosecution Service, said the couple showed an "utter disregard" for the child's safety.
"From the evidence that was gathered during the police investigation it is clear that due to the chaotic lifestyles of the defendants, and their frequent use of drugs, that this was a tragedy waiting to happen", she said.
Blackpool Safeguarding Children Board is carrying out a serious case review into Sophie's death and is expected to report back in the new year.
Blackpool Council said the child was not on the "at risk" register or known to social services.