Shakespeare First Folio 'left behind' by Stonyhurst College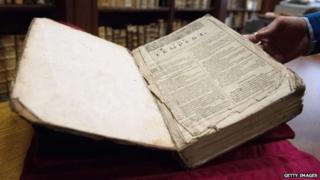 A rare book of Shakespeare plays found in a French town was "left behind" when a school now based in Lancashire was expelled from the area, it is claimed.
The Shakespeare First Folio, said to be the most important book in English literature, lay in a library in Saint-Omer, near Calais, for 200 years.
Clitheroe's Stonyhurst College began as St Omers College there in 1593.
A spokeswoman said the "dog-eared" book must have been "overlooked" when the college was ordered to leave in 1762.
The Folio collects 36 of Shakespeare's 38 known plays for the first time, and was originally printed in 1623, seven years after the playwright's death.
The rare copy was discovered by librarians planning an exhibition on the historic links between the Calais region and England.
'Not surprising'
The region was home to St Omers College, founded by Jesuit priests to provide a Catholic education for English boys which, at the time, was banned across the Channel.
The spokeswoman said it was "renowned for its drama productions [which] drew large crowds".
As a result, she said it was "not surprising" for a "well used" copy of the Folio to be part of its library.
The Folio contains several handwritten notes, which may show how the plays were performed in Shakespeare's time.
In one scene from Henry IV, the word "hostess" is changed to "host" and "wench" to "fellow" - possibly reflecting an early performance where a female character was turned into a male.
William Shakespeare's First Folio
Edited by Shakespeare's friends and fellow actors John Heminges and Henry Condell, the Folio is credited with being the reason his literary legacy survived
It is the only source for 18 of his plays, including Macbeth
It is thought that 800 copies were produced, of which 233 are believed to still exist
They rarely change hands but one of the last Folios to be sold at auction fetched £2.8m in 2006
The Stonyhurst spokeswoman said it had an inscription which "indicates that it was probably originally the property of Fr Edmund Neville SJ, an English Jesuit priest who taught at the College in the 1630s".
In 1762, the college was expelled from France, and moved through the Low Countries to its present home in Lancashire in 1794.
"Many precious medieval artefacts, illuminated manuscripts and books were taken with them, and survive at Stonyhurst to this day, but it seems that a slightly scruffy and dog-eared First Folio was overlooked and left behind," she said.
The school, which caters for three to 18-year-old day and boarding pupils, holds a different copy of the Folio, which was bequeathed to the institution by former pupil Lord Arundel.