Drunk honeymooner's death threats ground plane in Bermuda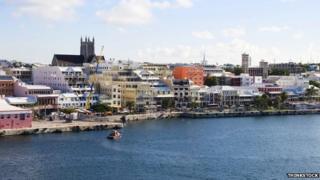 A drunk honeymooner caused a flight to Cuba to be grounded in Bermuda when he threatened to kill everyone on board.
Mohammed Khelya, from Blackburn, was taken off the flight from Manchester on Monday after becoming aggressive while drinking a bottle of duty-free vodka.
The 22-year-old told crew he would "kill everyone" after he was refused permission to see his new wife, who moved seats to get away from him.
He admitted two offences in Bermuda on Tuesday. His wife continued on to Cuba.
The Hamilton court heard that after Khelya had been drinking for several hours on the Thomas Cook flight, he began arguing with his wife.
Prosecutors said she and several other passengers changed seats to get away from him, leading Khelya to appeal to flight staff to allow him to see his wife.
When she refused to speak to him, he told a crew member: "I'm going to kill you and I'm going to kill everyone after."
He was then handcuffed and taken to the back of the plane.
The court heard that while being moved, he spat on some of the other 310 passengers, leading crew to cover him with a blanket.
After the plane diverted to Bermuda's L.F. Wade International Airport, Khelya was escorted off by police.
Pleading guilty to being drunk on the flight and being abusive to flight staff on Tuesday, Khelya told the court: "I don't know how I'm going to forgive myself."
Referring to his wife, he added: "I don't know how she's going to forgive me."
He was fined $3,000 (£1,900).
Minhaz Khelya told BBC Radio Lancashire his brother had shamed his family, but the incident had been blown out of proportion.
He added his sister-in-law, who returned to Britain on the next available flight from Cuba, was supporting his brother.