Roseacre Wood fracking: Environment Agency 'minded to grant' permits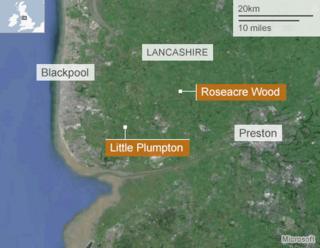 The Environment Agency (EA) says it is "minded to grant" energy firm Cuadrilla permits to frack during exploration for shale gas in Lancashire.
After an initial consultation, the agency has issued a "draft decision" outlining the conditions under which they would allow fracking at the Roseacre Wood site near Elswick.
A second round of consultation begins on Monday and will run until 6 January.
Campaigners opposing the plan say fracking is harmful to the environment.
Lancashire County Council, who have the final decision on whether operations can go ahead, have previously pushed back their schedule for considering the planning application to 31 January.
Fracking - or hydraulic fracturing - is a technique in which water and chemicals are pumped into shale rock at high pressure to extract gas.
The EA said its second consultation round was "important - it gives the public and interested groups an opportunity to see and have their say on the draft environmental permits before we make a final decision."
Cuadrilla has applied for permission to drill, hydraulically fracture and test the flow of gas at up to four exploration wells at the Roseacre Wood site.
Chief executive Francis Egan welcomed the move.
"The decision, following a robust and rigorous review of our permit applications, demonstrates that, as we have committed, the local environment will be well protected throughout our proposed exploratory operations," he said.
But Helen Rimmer from Friends of the Earth said: "Serious questions remain unanswered about the prevention of well failure, the treatment of toxic wastewater, and clean up from the multiple fracking wells proposed in the Fylde including at Roseacre Wood.
"The regulators are taking unacceptable risks with the local environment and communities when they should be following a precautionary approach and refusing fracking.
"With evidence of harmful environmental impacts from shale gas operations worldwide, it is clear there should be no further fracking in Lancashire or anywhere else."
The EA is also holding a final consultation about Cuadrilla's operations at its Preston New Road site near Little Plumpton, which will close on 15 December.
The firm already has a licence to test drill for shale gas in the Bowland Basin, a 746 sq miles (1200 sq km) site in Lancashire.