Cala Gran Holiday Park suspends revamp over recycling site expansion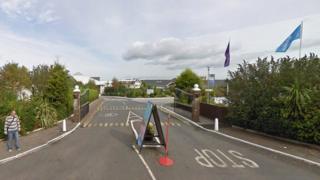 Caravan site owners have suspended plans for a major redevelopment after a nearby waste recycling plant submitted expansion plans to the county council.
The Cala Gran Holiday Park, Fleetwood said it was reviewing its investment, including a £1m swimming pool, because of Lancashire Waste Recycling's plans.
Owner Haven said it had suffered noise and smells from the site for two years and allowing it to "increase this disturbance beggars belief".
The recycling site is yet to comment.
'On hold'
Lancashire County Council said the waste recycling company based, in Venture Road, had submitted three planning applications that will be discussed at planning meetings on 10 December and 21 January.
The holiday park said the recycling centre was applying for permission to process food waste and to increase the plant's opening hours. It said traffic as well as the potential for changes to noise levels had left it with "no alternative" but to put its development plans on hold.
As well as a new swimming pool, the holiday park was planning a new showground for next year.
It said its legal team was now liaising with Lancashire County Council in a bid to halt "the threat to the future development of Cala Gran".
The caravan site has about 30,000 visitors each year and employs 120 people, rising to 320 at the height of the season.
On its website, Lancashire Waste Recycling said it aimed to reduce the residual waste sent to landfill by intercepting and processing residual waste into a valuable alternative fuel.